A Cooler Alternative Infill
Geo Plus organic infill delivers the best infill solution for any synthetic turf system, from athletic fields and parks, to landscaping and playgrounds. Geo Plus is the next best thing to natural grass, and installations have been made in 21 countries worldwide, and countless locations nationwide.
Characteristics:
RECYCABLE MATERIAL
REDUCED TEMPERATURES

HIGHLY PERMEABLE

SUPERIOR FOOT STABILITY

ORGANIC & NON-TOXIC

QUALIFIES FOR LEED CREDIT

Click here
for the Geo Cool Fill brochure.
Made from 100% environmentally friendly materials, Geo Plus organic infill uses a combination of carefully selected, specifically treated components to ensure the highest level of sports performance and turf playability. This infill is comprised of a combination of organic coconut fibers and cork – each offering a long list of benefits.
This product is installed with a layer of pea gravel or zeolite underneath to weigh it down and keep it in place.
Notable Installations:
University of Nebraska at Omaha Caniglia Field - Omaha, NE
Flour Bluff ISD - Flour Bluff, TX
Cañada College - Redwood City, CA
Skyline College - San Bruno, CA
The City of Weston, FL - (2 fields)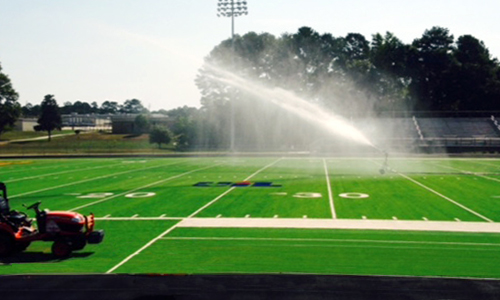 Cork functions as a highly resilient material, offering absorption of energy upon impact and quickly regaining shape and structure upon shock release. In addition to offering the feel of a natural grass playing surface, cork as an infill component aids in the reduction of heat on the synthetic turf surface. Through thorough testing and development, our organic infill has been proven to reduce field temperatures by at least 40º F, which provides great advantages for athletes.

The direct combination of the organic coconut fibers and cork reduce field heat levels in high-temperature areas throughout the world. Due to this, athletes experience a cooler playing surface and a more flexible time frame for optimum playability throughout the day.

The combination of organic coconut fibers and cork provides players with biomechanics that allow them to stop or change direction without sliding, which is typical of most infill in synthetic turf systems. This allows athletes to focus on their game without adjusting their playing style from field to field.

Geo Plus organic infill is installed with a layer of pea gravel or zeolite underneath to weigh it down and keep it in place. The permeable, organic infill allows for proper drainage, also decreasing the opportunity for splash-out and displacement of the infill upon shoe, ball, or body impact. The organic components lessen the buildup of static friction experience in traditional crumb rubber fields. Geo Plus also reduces the buildup of water, which can be retained on the field surface. Proper drainage is essential to field safety and the longevity of your Matrix® Turf field.

Due to carefully selected, all organic, natural composition, Geo Plus does not omit any bad odor no matter the temperature or moisture level. The infill allows for an aesthetically pleasing synthetic turf playing field without the meticulous maintenance of a traditional, natural grass playing field.


Geo Plus Infill with Zeolite
Zeolite is a natural, non-toxic substance that absorbs liquids and helps prevent odors. Zeolite enhances the Geo Plus infill by holding moisture and further cooling the surface temperature of the turf. In addition, the layer of zeolite weighs down the Geo Plus infill, keeping it in place.