Turf Removal System (TRS)
Let's face it; many stadiums these days have existing synthetic turf or artificial turf fields. After 10-12 years of wear and tear it is time for replacement. Matrix Turf offers a Turf Removal System to help you dispose of your existing turf quickly, so new artificial grass installation can take place, while keeping the environment in mind. Hellas' TRS machinery is specially designed to not disturb the base or subsurface while removing the old turf and infill. The old turf can be re used in practice fields, batting cages, or landscaping areas.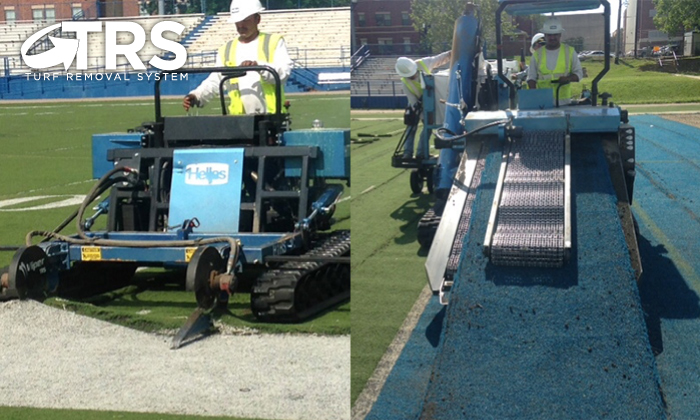 The seaming process is crucial for a smooth, sturdy and visually pleasing field. Matrix turf uses MAPEI's LEED-credited turf adhesive that is compatible with Hellas' proprietary turf backing — it fuses the seams into a uniform surface. This environmentally friendly, one-component adhesive requires no on-site mixing, resulting in consistency at every seam – no bumps! In combination with Fieldlock® reinforcement rivets placed in crucial areas of seams, letters, and lines, the seams are impossible to rip or undo. Matrix Turf can also be sewn if requested.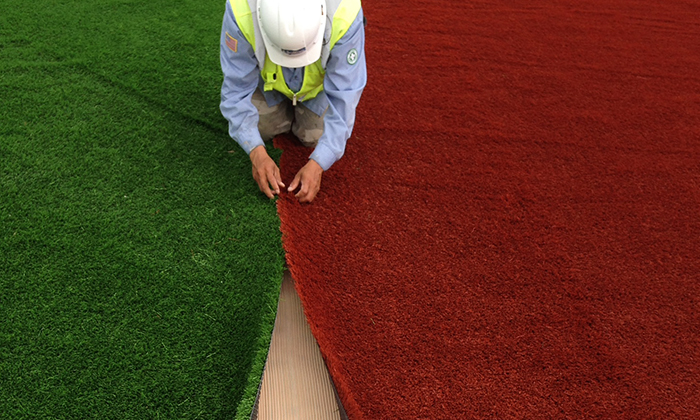 After the turf is put in place and logos, letterings, and lines are fitted and secured properly - the infill is applied. This requires a careful process pending the type of infill that has been selected. Making sure that the right volume is dropped and evenly dispersed into the field is crucial for playability and fiber support, as well as for aesthetics.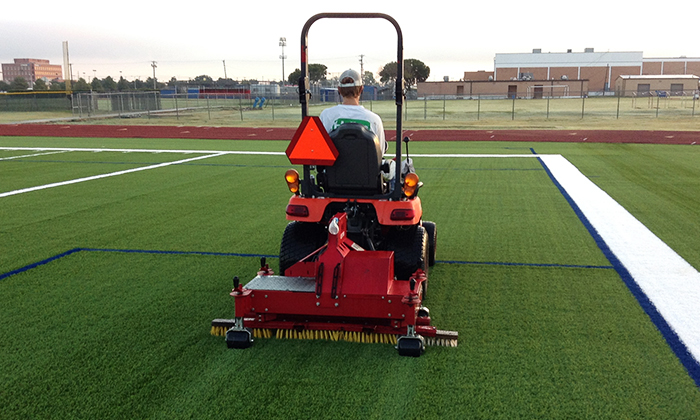 Artificial Grass Installation
Upkeep and maintenance of traditional grass surfaces can be a tiresome and tedious process, without optimal results in both aesthetics and performance. Synthetic turf installation removes this burden — resulting in a reliable, consistently green sporting surface with little-to-no maintenance requirements. Technological advancements and a great deal of research have helped synthetic turf to come a long way since initial development in the mid-to-late 1900's. The variations in color and pile height have been made to mimic natural grass surfaces in such a way that the visual difference between a lush grass surface and an artificial grass installation site is very minimal.

The process after opting for artificial grass installation should be a smooth and seamless transformation. The site of the new synthetic grass surface will be thoroughly examined to avoid any surprises that may arise during the development and process of installation so that possible time delays and additional costs are avoiding if at all possible. Hellas crews will work with any schedule to ensure that the synthetic grass installation is completed in a timely manner and is ready for important sporting events at your facility.

After installing new sod on a residential yard or sports field surface, there is a long process of waiting for the sod to take root and develop into a playable surface. On the contrary, when the turf synthetic installation process is complete, there is no downtime. Directly following installation, the turf is ready for play, and looks like a well maintained, natural grass surface.
Hellas won't leave you hanging. During sign-off, crews will walk the entire field with you to ensure a proper artificial grass installation and check infill levels. Maintenance training will be done with staff on-site, to display how to best take care of the new synthetic turf field, as well as how to use the cleaning and grooming equipment. Most importantly, a point of contact is assigned for any follow up or questions. Lastly, signs with guidelines for players and visitors will be put up surrounding the field, ensuring longevity of the new field after synthetic turf installation.