Why is Turf Maintenance Important?
Synthetic turf surfaces go through heavy usage and high traffic. Because of this, even the smallest installation collects debris over time. From bobby pins and magnetic objects to broken pieces of athletic equipment, dirt, and unwanted fluids, synthetic turf surfaces are constantly contaminated. Because of this, surfaces require optimal sports field cleanings.

Constant sports field maintenance and care is crucial to maximizing the life of a synthetic turf surface. Hellas understands this and is proud to have the best after-sale service for every Matrix Turf surface it installs. Hellas provides clients with all the tools and information necessary to maintain the look, feel, and playability of artificial turf surfaces. Hellas has developed an array of both machinery and services that address every maintenance need for fields, including de-compactors, repair tools, and disinfectant sprays. With Hellas' service and maintenance, taking care of a turf sports surface is a simple and almost automatic experience that brings life to the surface and safety to sports athletes.
Clean Sweep Cleaning Service
Clean Sweep® Cleaning Service is a turf maintenance, cleaning, and grooming service that quickly cleans and revitalizes your field by performing important functions to keep your field looking and playing at an optimal level. Over time, infill can migrate, compact, and gather debris making the playing surface harder, uneven, and less predictable. The Clean Sweep machine will lift and loosen the infill to soften the surface and help turf fibers spring up to their original position. It then runs across the top layer of the turf and sweeps loose infill and debris. The debris is collected and thrown away, while the infill is redistributed into the surface. A powerful 6-foot tow-behind magnet removes unwanted material, such as broken equipment, bobby pins, and other metal debris, from deep within the infill.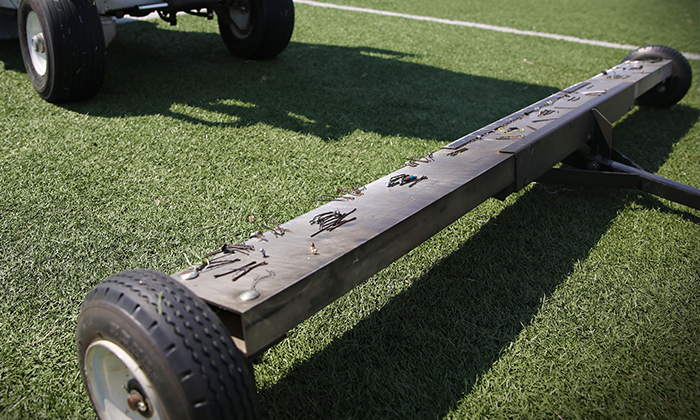 The Clean Sweep Cleaning Service Field Sweeper is another option for those who want to stay on top of turf maintenance without scheduling appointments. This do-it-yourself machine will remove excess fibers, trash, broken athletic equipment, and other unwanted debris from synthetic turf while evenly redistributing infill. Using this machine regularly will help synthetic turf look better, last longer, and have better playability for athletes.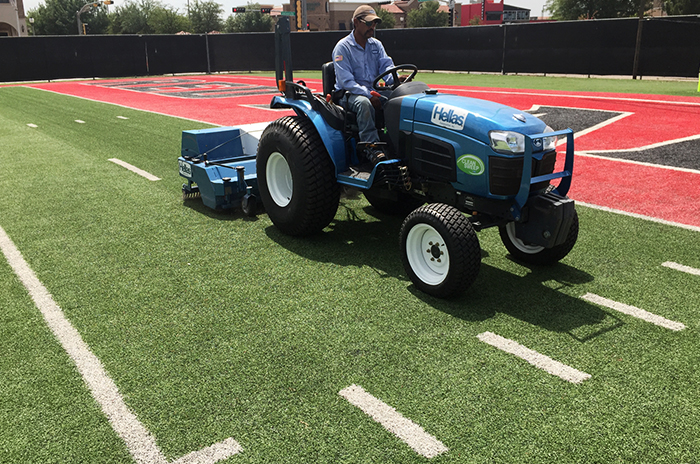 An anti-microbial disinfectant spray can also be applied to your synthetic turf. This disinfectant is nonflammable, non-corrosive, and odorless. It is strong enough to kill the most dangerous viruses and bacteria (MRSA) in a hospital environment, yet EPA registered to be safe for use on children's toys at home.