Matrix® Turf
is used by a wide range of clients from professional football teams including the Dallas Cowboys, to Division 1 Universities, and K-12 school districts. The original Matrix Turf is the foundation for all varieties of sport-specific Matrix Turf systems, and it was the first system developed with two different sized fibers in two different shades of green. The variation in the football field turf fibers' size and color gives the turf the look and feel of a natural grass surface.
In addition to maintaining the aesthetics of natural grass, Matrix Turf has multiple features and benefits for football athletes. The combination of the turf fibers and selected
infill
results in increased control and footing, impact reduction, and also provides a slip resistant playing football turf system. These three characteristics are important to maintain a level of safety throughout football games. The Matrix Turf system also results in minimized "fly-out" and splashing, resulting in less downtime due to inclement weather.
Features:
INCREASED TRACTION
SHOCK ABSORBPTION
IMPACT REDUCTION
INCREASED CONTROL AND FOOTING
MINIMIZED "FLY-OUT" AND SPLASHING
SLIP RESISTANT
GLARE REDUCTION
Hellas' Matrix Turf comes in a variety of color options, with options to add logos and specialized end zones, ensuring an original and custom field. Before football field installation, each unique option and color combination is thoroughly discussed and carefully selected to ensure complete satisfaction.
To upgrade your football turf system, Matrix Turf can be enhanced with
Helix technology
. The Shape Memory Technology (SMT) is applied to the Matrix fibers during the manufacturing/extrusion process making each fiber twist. The twist further minimizes "fly-out" by securing the infill preventing migration. The Helix technology makes Matrix Turf the most resilient, stable, and durable monofilament fiber in the market.
Click here
to find more information on Matrix Turf with Helix technology.
Notable Installations:
AT&T Stadium
Idaho State University-Holt Arena
Eastern Illinois University
Hermiston High School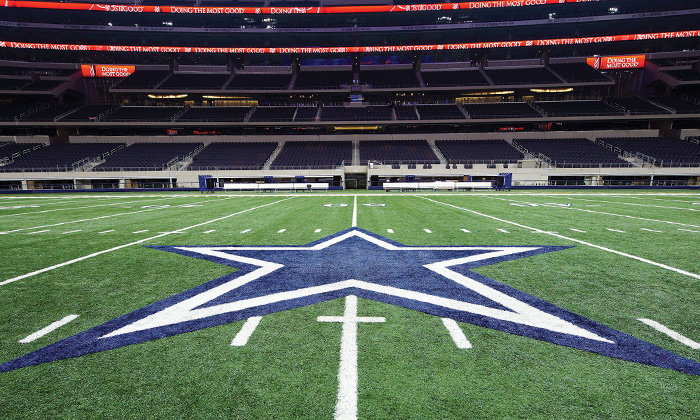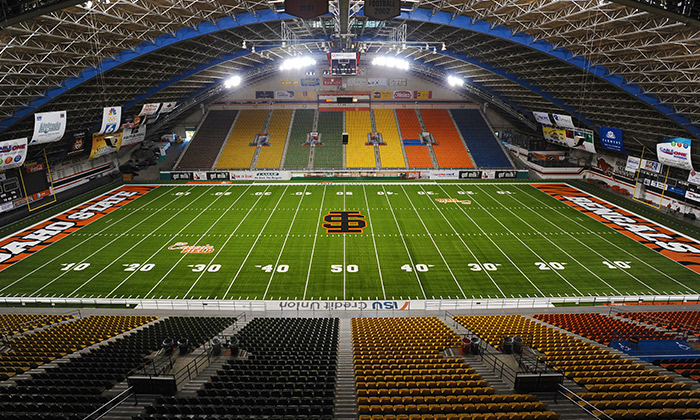 Due to the nature of the sport, football field synthetic turf demands a system that can optimize certain characteristics of the sport. Football athletes constantly sprint, tackle, and break away through the field during practice and official gameplay They must feel safe and natural as they compete without fear of slipping or losing their footing on inconsistent areas. This requires a surface that is strong enough to withstand high traffic and the heavy wear of competitive play, and deliver the characteristics that athletes demand from a field. Matrix Turf for football brings all of this and much more.