Hellas Construction & U.S. Soccer Foundation Score in Newark
Ribbon Cutting Celebrates Grand Opening of "Safe Places to Play" Soccer Complex
December 18, 2015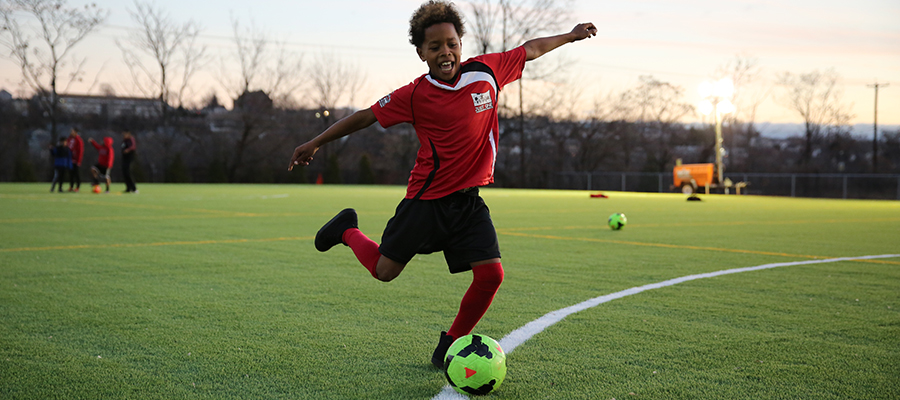 Austin, TX (December 18, 2015) -
On Wednesday, Hellas Construction and the Newark Housing Authority hosted a ribbon-cutting ceremony unveiling a new soccer complex, in partnership with the U.S. Soccer Foundation's "Safe Places to Play" program.
The ceremony marked the finalization of the 51,200 sq. ft. installation of Matrix® Synthetic Turf, which is lined for one sub-regulation soccer field and three junior soccer fields at Newark's Waterfront recreational facility. The completion of the project marks the second and largest multi-divisional turf soccer project in the Newark area. Hellas broke ground on the project in September, and completed the design, construction, and turf installation by November.
"Our experience with Hellas Construction and the U.S. Soccer Foundation has been amazing," said Keith Kinard, Executive Director of the Newark Housing Authority. "We had considered building a soccer field for kids in our community for some time now, and we are finally able to do so with the help of the 'Safe Places to Play' program." The ribbon cutting ceremony was held at 5 p.m. in the Waterfront facility and was open to the public. Representatives from Hellas Construction, the Newark Housing Authority, and the U.S. Soccer Foundation were in attendance to celebrate the occasion.
"The U.S. Soccer Foundation is excited to work with Hellas on yet another transformational project," said Krista Washington, Marketing & Communications Manager for the U.S. Soccer Foundation. "We value working with Hellas and our community partners to positively impact today's youth, and we are excited to bring a state-of-the-art field to the Newark community."
As one of the largest sports construction companies in the U.S., the effect Hellas has had on the U.S. Soccer Foundation's reach is notable. Over 34,000 children were directly impacted this year, and both organizations expect a significantly higher number next year. From conception to execution, Hellas is a hands-on partner who provides critical funding to support three grant cycles per year and the expertise to build these facilities.
---