Austin ISD's House Park Stadium Holds Season Openers On Hellas Construction's Matrix Turf with Helix Technology
September 1, 2015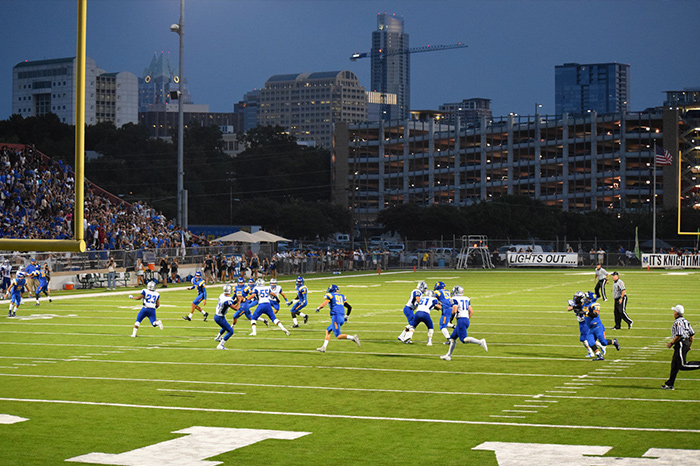 Austin, TX (September 1, 2015) —
On Thursday, August 27th, Austin Independent School District's House Park Stadium reopened its doors in great fashion as it held the Taco Shack Bowl between the Anderson High School Trojans and the McCallum High School Knights. This was the first game played on the stadium's new Matrix® Turf with Helix Technology surface.
House Park Stadium was closed after the Memorial Day flood left the artificial turf damaged beyond repair, leaving several Austin ISD schools without a home to host their 2015-16 football season. The Austin Aztex, the local MLS developmental team, was forced to relocate the remainder of their home games for the 2015 season.
Hellas Construction began the $400,000 turf installation project on July 13th and finished in twelve days. The stadium was surfaced with Hellas' Matrix® Turf with Helix technology, a highly-demanded product with Shape Memory Technology (SMT) known for producing an aesthetically pleasing playing surface, minimizing "fly-out", and superior resiliency. This synthetic turf system has also been installed in stadiums such as Baylor University's McLane Stadium and Allen ISD's Eagle Stadium. Additionally, Hellas also inspected the base by putting a camera through the pipelines to check for debris and clogs. A new cleanout was then installed to improve the drainage of the field.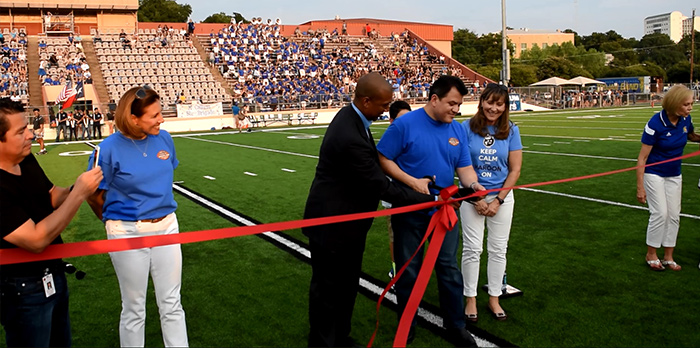 "This project was definitely special to us," said Mauricio Espinosa, Turf Operations Manager at Hellas Construction. "Being a local company, Hellas understands how important House Park Stadium is to the community and to the school district. We made sure the new field would be ready for athletes to play their 2015-16 football season as well as for the community to enjoy."
The Anderson High School Trojans took the Taco Shack Bowl for the second consecutive year with a final score of 28-14. A ribbon cutting ceremony was held before kickoff, where Austin ISD officials welcomed the community to the renovated downtown stadium. The Austin High School Maroons and the McNeil High School Mavericks also held their season opener at House Park Stadium on Friday, August 28th. The Maroons defeated the Mavericks 44-37.
The next varsity game at House Park Stadium will be held between the Round Rock Westwood Warriors and the Anderson High School Trojans on Thursday, September 3rd.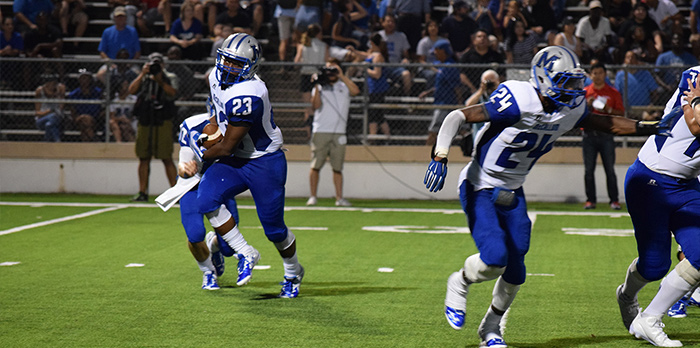 ---