Continued Sports Facility Improvements In The Metroplex
Students and athletes are benefitting from improved playing surfaces at Wylie ISD
July 1, 2015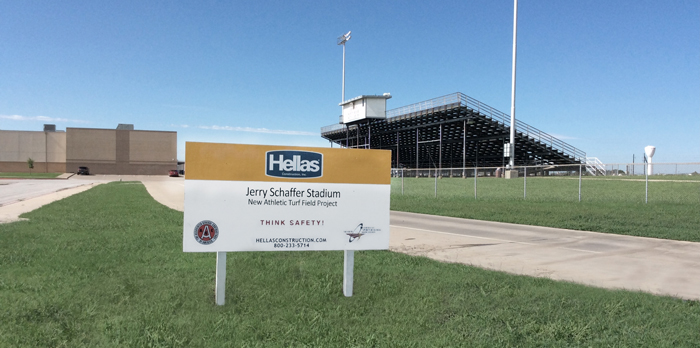 Austin, TX (July 1, 2015) —
Wylie ISD, in the DFW Metroplex, contracted Hellas for $1.6 million to install new epiQ TRACKS® running track systems at Frank McMillan and Cooper Junior Highs starting June 4th while converting Jerry Shaffer Stadium's natural grass field at Burnett Junior High to Matrix® Synthetic Turf which started June 9th. The Wylie ISD Indoor Facility utilized by all sports teams year round, also received Matrix® Turf and was completed this past March.
Frank McMillan and Cooper Junior High Schools will receive renovation of their running tracks and then resurfacing with epiQ TRACKS® S200 running track system. This paved-in-place running track sport surface is comprised of a bottom layer of polyurethane bound rubber granules topped with a spray-applied coat of one or two-component polyurethane and EPDM granules. Hellas manufactures the highest quality green materials for their running tracks, proven to produce durable, predictable, and resilient surfaces.
Shaffer Stadium at Burnett Junior High School will receive full construction to convert their natural grass field to Matrix® Turf with a REALFILL® infill system. The benefits will be increased use of the field with less maintenance. The groundbreaking was June 9th and completion will be in August before football season begins.
Wylie ISD Indoor Facility had the existing turf replaced with Matrix® Turf and REALFILL® infill. Hellas began this project on March 4th and completed it on March 16th taking only twelve days to finish.
"We have a great working relationship with Hellas Construction," said Kyle Craighead, Wylie ISD's Executive Director of Athletics. "We have collaborated on many projects in past. The quality of their work, along with their desire to ensure customer satisfaction, is very impressive. I look forward to continuing to work with them on future projects in our district."
Hellas has established a meaningful presence in the Dallas/Fort Worth Metroplex over the years and currently has 26 ongoing projects in the area.
---